Restorative Dentistry
Restore Your Smile Conservatively
Are you suffering from a broken, chipped, cracked, or decayed tooth or teeth? At the office of Dr. Muse, we can restore your damaged tooth with the most durable, natural, conservative methods. If you are in need of a restoration for a tooth that is missing, broken, chipped, cracked, or damaged by decay, Dr. Muse can provide natural-looking porcelain restorations and composite bonding.
Composite Build Outs
Old Leaking Silver Filling
After Removal with Decay
Restored with Composite
A composite build-out is a more conservative solution compared to a crown for teeth that are broken, chipped, cracked, or decayed. In order to prepare a tooth for a crown placement, a significant amount of healthy tooth structure must be removed to make room for the crown. With composite build outs, this alternative bonding technique requires less of the healthy tooth structure to be removed.
What are the benefits?
The great thing about composite build outs as an alternative to a crown is, as mentioned above, that they require less of the healthy tooth structure to be removed. Keeping your healthy tooth structure intact is always ideal. In the case that your oral health goes south in the future – i.e. further decay – we will have more healthy tooth structure to work with, and hopefully, can avoid a potential extraction with a crown. Other benefits of composite build outs include:
Less removal of healthy tooth structure
Placed in a single appointment
More conservative in nature
If you are interested in a composite build out as an alternative to a porcelain crown, please don't hesitate to give us a call at 337.446.2397, or request a consultation online.
---
Crowns
Porcelain crowns are the latest advancement in dental crown technology. We used to make crowns out of metal, so you would be sure to see an unsightly reminder of your dental work every time you opened your mouth. Today, thanks to advancements in modern dental technology and materials, we are able to craft beautiful, tooth-colored crowns out of slick porcelain. They can be color-matched to blend in seamlessly with the rest of your teeth, they function just as well, and are durable so your restoration will stand up to the test of time.
Is a porcelain crown right for me?
Porcelain crowns can correct and protect teeth from a number of dental grievances. A porcelain crown can be used for functional, health, and cosmetic purposes, and might be a good option for you if you have a tooth or teeth that are:
Missing
Broken
Cracked
Chipped
Decayed
Misshapen
Badly discolored
Root canal treated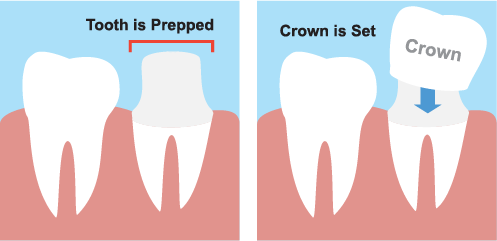 If you are suffering from any of the above issues, and are looking for a durable, long-lasting, and natural-looking restoration, please don't hesitate to contact us. You can call our office at  (337) 446-2397, or request an appointment online.
---
Bridges
Dr. Muse and our team know better than anyone the difficulty that comes with missing teeth – the looks, the stares, the questions, the embarrassment – it can be hard to swallow. If you are missing a tooth or teeth, chances are your smile is not sending the message you want it to, and it may even prevent you from getting the things you want in life.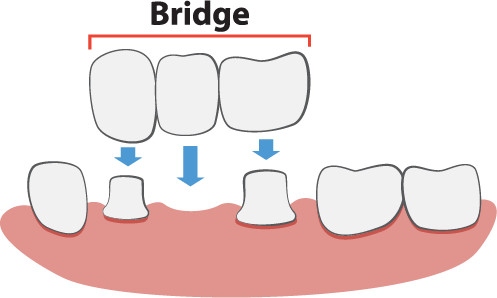 Engineered for Excellence
Not only do missing teeth cause embarrassment and low self-esteem, but can also have serious consequences for your oral and overall health. Porcelain bridges from your trusted dentist in Lafayette are not only beautiful and blend seamlessly with the rest of your teeth, but can prevent the teeth on either side of the gap from moving and rotating, and provide the support needed for maintaining healthy bone and face structure.
Porcelain bridges can offer unmatched stability and are a tried and true, permanent solution to missing teeth. A bridge can replace a single tooth or multiple teeth and is anchored in place using crowns on either side of the gap. Bridges are sturdy, long-lasting, and natural looking. Make sure to follow a strict oral hygiene routine at home just as you would normally, and come in and see us regularly for cleanings and exams to extend the life of your porcelain bridge.
---
Dentures
If you're missing most or all of your natural teeth, or living with ill-fitting dentures that rock and slip, we would love to help you restore your smile with our modern denture options. If you still have some healthy teeth remaining, we want to keep those intact for as long as possible. We can fit you with a partial denture to replace missing teeth and blend in seamlessly with your natural teeth.
If you need a full set of dentures, we use the most modern materials, usually a combination of acrylic and ceramic, to give you a beautiful, functional set of new teeth. Dentures that fit well can help you enjoy your favorite foods again, speak with clarity, and smile with confidence, without worrying about your teeth.
If you are a candidate for dental implants, we highly recommend them for replacing missing tooth roots, stabilizing dentures and securing your jawbone. Check out our Dental Implants page to learn more about implant supported dentures!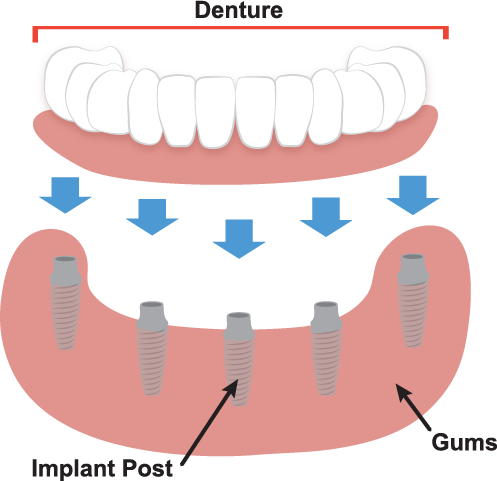 If you desire to chew, speak, smile, and laugh with abandon like you did before your missing tooth or teeth, we would love to talk with you about your restorative options. Call your Lafayette dentist today at  (337) 446-2397, or schedule an appointment online.