Dental Implants
The Best Your Smile Can Get
If you are missing a tooth or multiple teeth, our compassionate team here at your Lafayette dentist understands the embarrassment and the frustration, as well as the functional and health issues that follow. If you are looking for a more permanent, stable solution for missing teeth than removable dentures or partials, dental implants might be a fantastic option for you.
What are Dental Implants?
Dental implants are tooth root replacements that are surgically implanted into the jawbone using advanced precision technology. Once the implant is healed and secure, it can be fitted with a tooth replacement like a crown, bridge, or dentures if you are missing multiple or all of your teeth.
Once the implant is inserted into the jawbone, the implant actually stimulates new bone and tissue growth around the implant, and effectively becomes a fully integrated, fully fused part of your oral health structure.
A healing period of a few months is usually required after implant placement to ensure proper healing and integration. Once fused, it serves multiple functions – stabilizing and protecting the jawbone, and securing new tooth restorations for the most life-like feel, fit and function.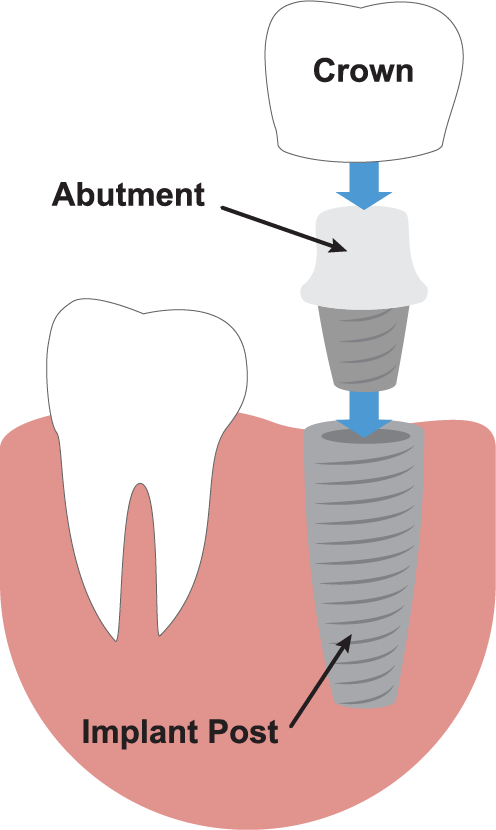 Implant Supported Dentures
If you're missing most or all of your natural teeth and are considering dentures for the first time, or you currently have dentures that don't fit well and slip out of place, we would love to help you secure your smile with implant supported dentures. Implant supported dentures, look, feel and function so much like natural teeth, you might even forget you weren't born with them!
We use the minimum number of implants to support the maximum number of teeth (a full arch) to provide the least invasive, most cost-effective solution for our patients. Securing dentures with dental implants offers the most secure, most life-like alternative to natural teeth, and allows patients freedom from removable, ill-fitting dentures and messy denture adhesives. Not to mention all of the wonderful benefits of dental implants for securing the jawbone and preventing bone loss and premature aging.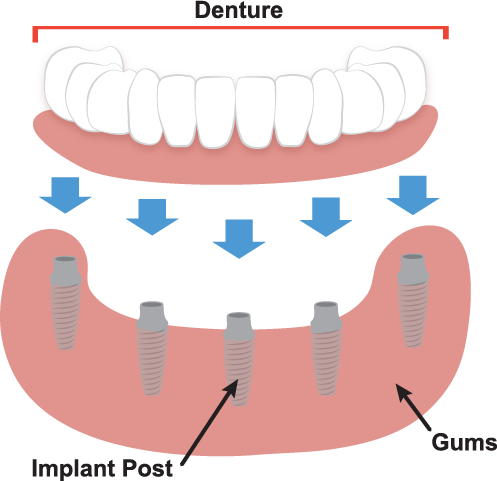 Dental implants are the most recommended tooth replacement solution available – by doctors and patients alike! Keep reading or give us a call today to learn how dental implants can help you get back your smile, your confidence, and your quality of life!
Why replace missing teeth?
Our Lafayette patients who are unconcerned with the aesthetic or functional value of replacing missing teeth – maybe they are missing one of the back teeth that are not frequently seen – often ask, "Why?"
The truth is, missing teeth can be detrimental to your health. Not only is the health of surrounding teeth compromised when a tooth is missing, but the jaw bone actually begins to deteriorate when there is no tooth root to stimulate it.
This deterioration is what leads to the "sunken face" appearance that is neither attractive nor healthy. Dental implants act as a tooth root replacement and will ensure the health of your mouth and jawbone remains intact for years to come.
What are the benefits of Dental Implants?
The benefits of dental implants range from aesthetic to functional, to health benefits:
Look and feel just like natural teeth
Unmatched stability
Prevent surrounding teeth from moving or rotating
Prevent bone loss of the jaw
Regain ability to enjoy your favorite foods
Regain confidence
A member of the American Academy of Implant Dentistry, Dr. Muse is prepared to guide you every step of the way. If you are seeking a dentist in Lafayette that can provide a long-lasting, stable solution for missing teeth, look no further than the office of Dr. Muse. Give us a call today at 337.446.2397 to find out what dental implants can do for you.