All of you are wonderful and I know you will make this a pleasant experience. Dr. Muse or Dr. Moss, you have been a gem and I know you will take care of me. –Terrie
What is TMJ?
TMJ stands for temporomandibular joint and problems in this joint may be caused by a misalignment of the teeth, trauma, or excess muscle tension. Cartilage buffers the two bones and five muscles that meet, but any problems in this area can create quite a bit of pain and biting difficulties.
Symptoms of TMJ include:
• Headaches
• Earaches
• Trouble/soreness opening and closing the mouth
• Clicking or popping of the jaw
• Pain in the jaw muscles
• Soreness in the area, sometimes extending to the face
TMJ Treatment in Lafayette
Dental treatments Drs. Muse and Moss preform for the condition in their Lafayette office can include replacing missing teeth, moving teeth, adjusting the bite, and filling gaps between teeth. There is no one solution that is right for all cases. Occasionally a plastic mouthpiece is used to prevent clenching or grinding that is contributing to the problem. If untreated, and in severe cases, surgery may be required to repair a badly damaged joint.  
Contact our office today to find out if TMJ treatment in Lafayette is a good fit for you.
Related TMJ/TMD Articles
TMD – The Great Impostor
This "chameleon" of dental disorders manifests in a variety of ways, including joint pain, sinusitus, ear pain, tooth and headaches. The causes of TMD, its signs and symptoms and what can be done to treat this common disorder… Read Article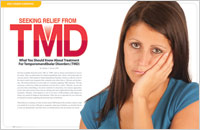 Seeking Relief From TMD
TMD, or Temporomandibular Disorders, is an umbrella term for various painful conditions that affect the jaw joints. There are different treatment approaches to TMD problems, but not all are based on science. It's important to be up on the latest information and to be an educated consumer. In this comprehensive article, Dear Doctorprovides state-of-the-art information and guidance on what you should know, whom you should see, and what you should ask… Read Article